Ceat Farm Tyres
Driven by the Power of CTR
CEAT Agricultural farm radials offer high horsepower equipment, engineered to deliver on strength, durability and performance.
Compaction
One of the most important features of a great farm tyre is low compaction. The primary requisites for reduced soil compaction are a wider tread, large inner volume and flexible construction. These 3 features contribute to a larger footprint and consequently reduce compaction, resulting in an increase in farm productivity.
Thanks to their superior construction, CEAT Farm Radials allow farmers to operate at lower pressure in the field, leading to even lower compaction.
CEAT Farm Radials have demonstrated lower compaction, compared to the competition.
Lower Compaction Vis-a-vis Competition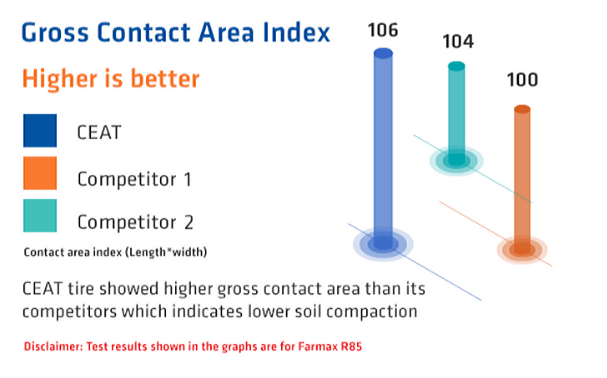 Traction
Another important feature of an exceptional farm tyre is its ability to deliver high traction. The better the grip of the tyre, the higher the traction.
CEAT Farm Radials' scientifically designed, low angle lugs at the shoulder provide better grip in mud and slush. This results in lower slippage and better productivity.
CEAT Farm Radials have a longer footprint, and a higher number of lugs on the ground, which deliver higher traction.
Traction of CEAT Tyres is proven to be higher than competitors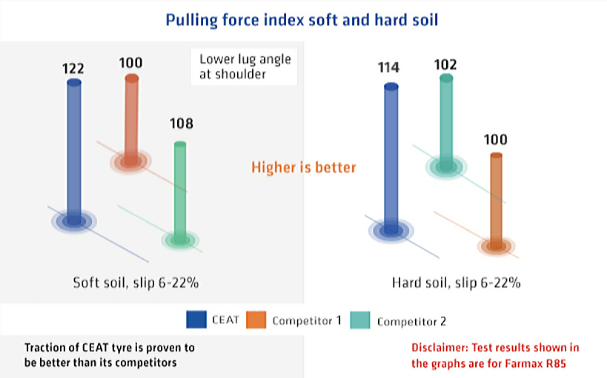 Roadability
Not all farming tyres are made to run more efficiently and easily on the road. However, CEAT Farm Radials give you this added advantage over other farm tyres.
When we speak of roadability, we take into account two crucial aspects: the stability the tyres offer, as well as the ride comfort they afford, when driven on the road.
CEAT FARMAX's higher angle, and lug overlap at the centre, results in better ride comfort, stability and handling. With this sturdy versatility, you have a tyre that is designed to perform more efficiently not just on the farm, but also on the road.
Better roadability compared to competitors